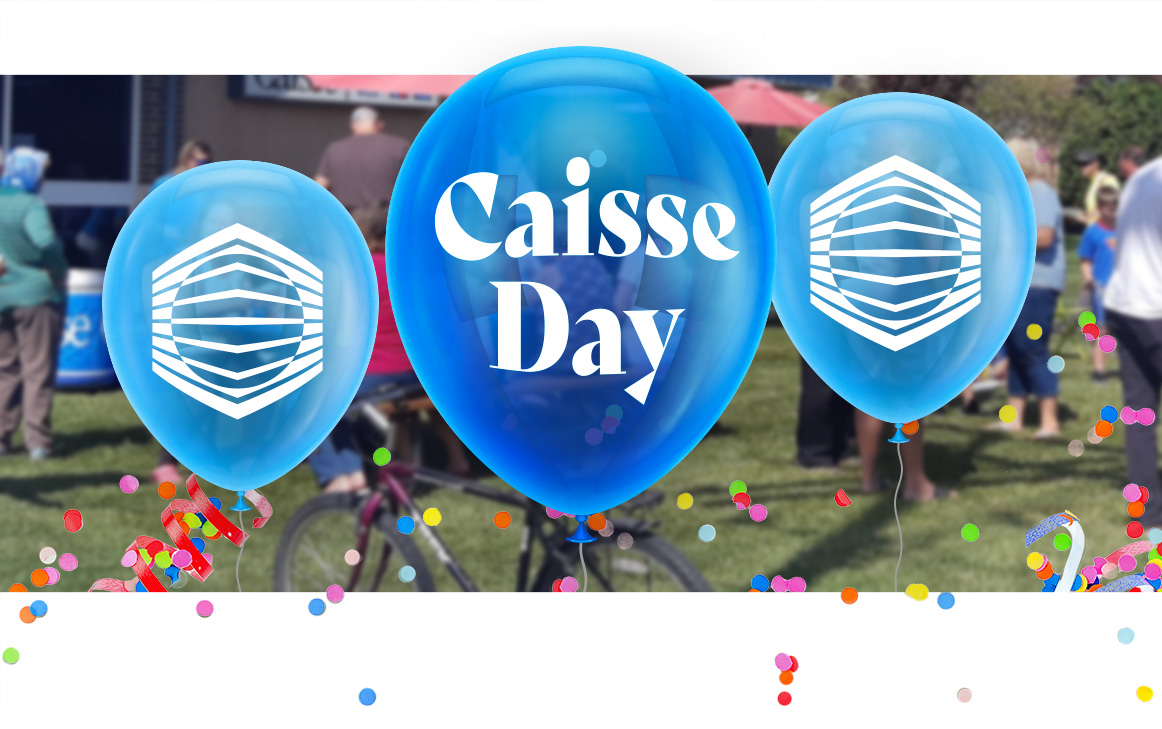 Our member appreciation day, Caisse Day, is back! Mark your calendars for Tuesday, September 12 – you won't want to miss it!
All Caisse branches will offer a BBQ or treats to members as a thank you for doing business with us.
Come down to your local Caisse to say hello, grab a bite to eat, and maybe play a game or two. And while you're at it, feel free to ask us about what we do and tell us what we can do to make your experience as a member even better!
We're excited to see you!
Schedule
Branch
Treat
Celebration Time
Elie
204-353-2283
BBQ Lunch
11:30 am-2:00 pm
Île-des-Chênes
204-878-3765
Cookies
1:30 am-3:30 pm
La Broquerie
204-424-5238
BBQ Lunch
11:00 am-1:00 pm
La Salle
204-736-4341
BBQ Lunch
11:00 am-1:30 pm
Lorette
204-878-2791
BBQ Lunch
11:30 am-1:30 pm
Notre-Dame-de-Lourdes
204-248-2332
BBQ Lunch
11:30 am-1:30 pm
St-Adolphe
204-883-2258
BBQ Lunch
11:30 am-1:30 pm
St-Claude
204-379-2332
BBQ Lunch
11:30 am-1:30 pm
St-François-Xavier
204-864-2676
Cookies & Coffee
11:00 am-3:00 pm
St-Georges
204-367-8268
BBQ Lunch
11:30 am-1:30 pm
St-Jean-Baptiste
204-758-3372
BBQ Lunch
11:30 am-1:30 pm
St-Laurent
204-646-2382
Cookies & Coffee
11:00 am-3:00 pm
St-Malo
204-347-5533
BBQ Lunch
11:30 am-1:30 pm
St-Pierre-Jolys
204-433-7601
BBQ Lunch
11:30 am-1:30 pm
Ste-Agathe
204-882-2345
Cupcakes, coffee & juice
All day
Ste-Anne
204-422-8896
BBQ Lunch
11:30 am-1:30 pm
Winnipeg
875 rue Dakota St
204-257-2400
BBQ Lunch
11:30 am-1:30 pm
Winnipeg
36 boul Lakewood Blvd
204-257-3360
BBQ Lunch
11:30 am-1:30 pm
Winnipeg
205 boul Provencher Blvd
204-237-8874
BBQ Lunch
11:30 am-1:30 pm