Click on each element in the logo to learn about what it reprensents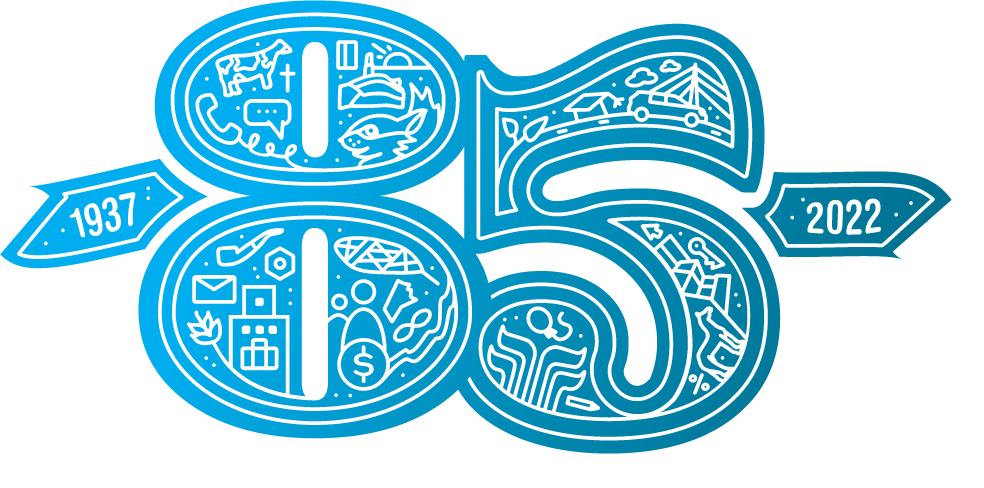 Cow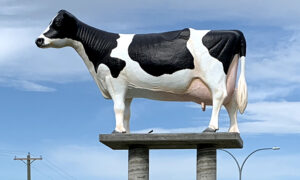 Brissette is a statue of a cow in Caisse's community of La Broquerie.
Cross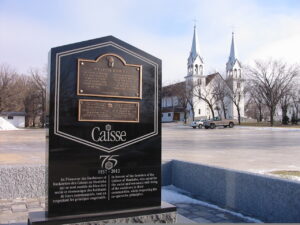 Caisse was founded by Monsignor Arthur Benoit and 29 members of the community with the support of Abbot Adélard Couture, the founding father of the financial co-operative movement in Manitoba.
Member SMS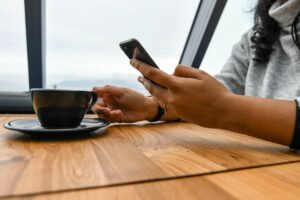 In 2020, Caisse implemented their SMS service, allowing members to text their Caisse representative any question they may have.
Télé-caisse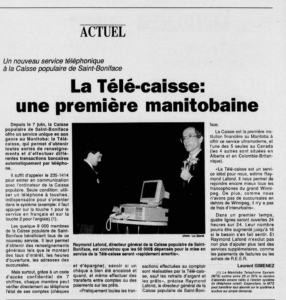 In 1990, Caisse launched its Télé-caisse system, allowing members to access their personal or business accounts over the phone 24/7.
Cards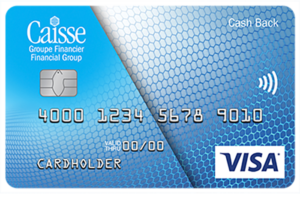 This card represents Caisse's debit and credit cards.
Prairie Skyline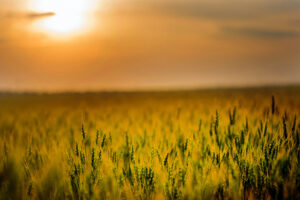 This represents the flat, Manitoban prairie skyline, familiar to us all.
Museum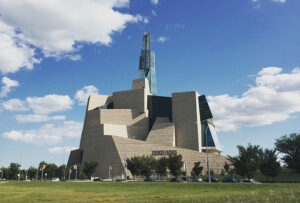 The Canadian Museum for Human Rights is a prominent landmark near Caisse's Provencher branch and head office in Winnipeg. 
Poplico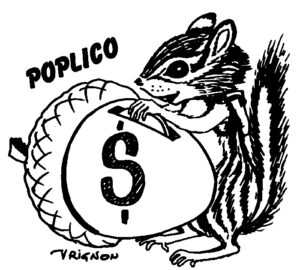 Poplico, the chipmunk, was Caisse's reigning mascot from 1993 to the 2000s.
Pipe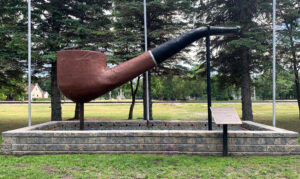 There is a statue of a pipe in Caisse's community of St. Claude. Fun fact, this is the World's Largest Tobacco Pipe. It's 19 feet long, 5 feet high, and weighs just over 400 pounds. 
Hexagon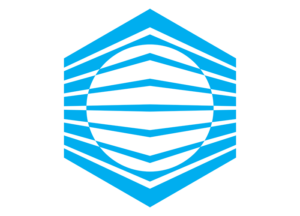 This represents the hexagon in Caisse's logo.
The meaning behind the icon: 
The Francophone Community is identified by the circumflex accent above the hexagon. 

The Security Provided by a Financial Institution is represented by the circumflex accent above the building that is protecting a coin (money). 

The Caisse Financial Group Network is identified by the stripes that traverse the hexagon. They represent an active and progressive financial network. 

The Regional Aspect of Manitoba is identified by the colour blue which portrays the vast blue sky of the Manitoba prairies. 

The Three-Dimensional Hexagon represents the past, the present and the future of Caisse Financial Group in Manitoba.
Envelope

The envelope represents the statements sent out each month, although Caisse is very proud to report 46% less paper statements sent monthly in 2021 compared to 2019.
ComAg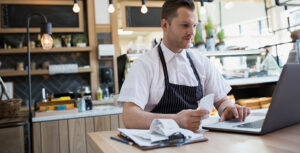 The building, wheat and suitcase represent small, large and agricultural businesses that Caisse services.
Snowshoe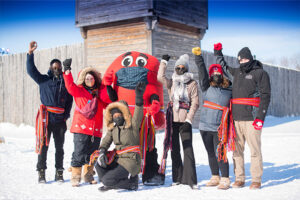 This snowshoe represents Caisse's long-standing partnership with Festival du Voyageur, the largest winter festival in Western Canada, celebrating French-Canadian, Metis and Indigenous culture. 
Manitoba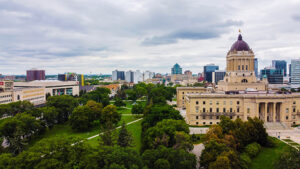 The province in which each Caisse branch is located. 
Customer Service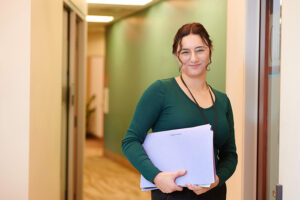 This represents each employee who creates great member experiences, keeping member retention high.
Coin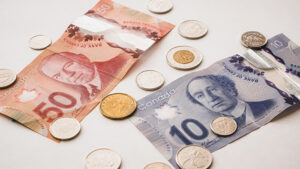 The base of our financial cooperative is of course money, the Canadian dollar. 
Metis Symbol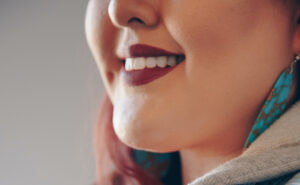 Métis people represent the second largest racial demographic of our members, after Caucasian, according to a recent study. 
River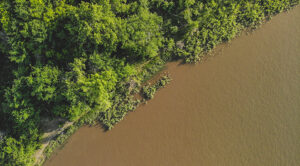 The Red, Assiniboine, Seine and many other rivers flow through Manitoba, connecting our communities. 
GREEN Fund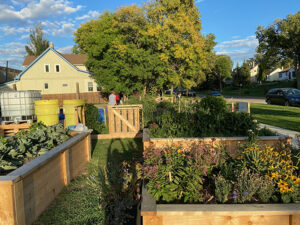 The Caisse GREEN Fund helps support local projects that have a positive impact on the environment and help combat climate change. 
Graduation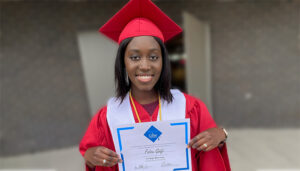 Each year, Caisse awards 24 bursaries to school students from Francophone, Anglophone and Immersion schools across the province for a total of $12,000. 
CaisseMobile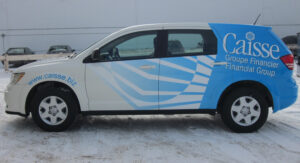 In 2012, Caisse unveiled the CaisseMobile, a car decorated with Caisse's corporate look, to travel through Caisse communities for festivals, community parties and other local events. It is shown here going over the Provencher bridge near the corporate office.
Website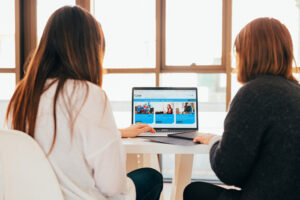 In 1997, Caisse launched its first website. By the end of 2001, members were able to start accessing information on their accounts online. 
Key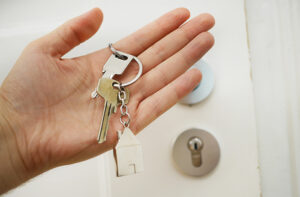 This key represents home ownership made possible through Caisse mortgages. Our rates are VERY competitive! 
Corporate Office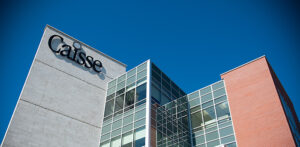 Built in 2011, Caisse's corporate office has four floors with multiple sectors, including; our Provencher branch, C Finance, ComAg, Commercial Credit, and Télé-pop.
Horse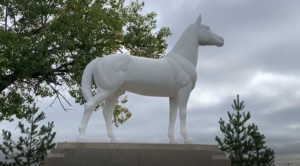 There is a statue of a horse in Caisse's community of St. François Xavier 
Percentage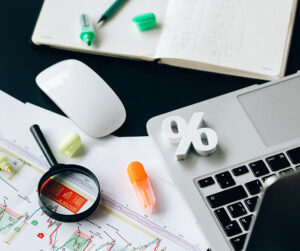 This represents Caisse's flexible and completive rates. 
Pen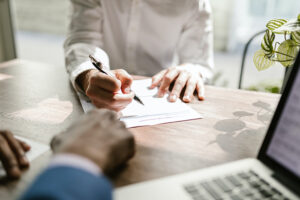 This represents signing on a new account, a mortgage, etc. 
Franco-Manitoban Flag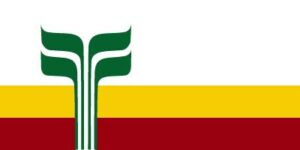 This represents the Franco-Manitoban community that Caisse is rooted in, and its continual push to offer bilingual services to its membership.
Balloon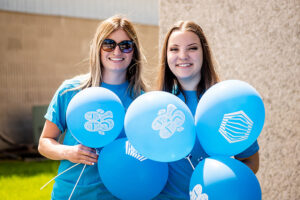 The blue balloon is an unofficial symbol of Caisse, spotted at festivals, our annual Caisse Day and more, and has put a smile on hundreds (if not thousands) of children's faces!  
2022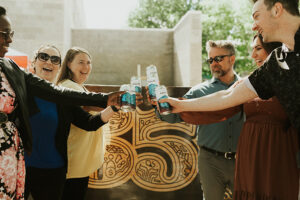 Today, Caisse has evolved to a full-service, billion-dollar bilingual financial institution with 19 branch locations in Manitoba and over 35,000 members. 
1937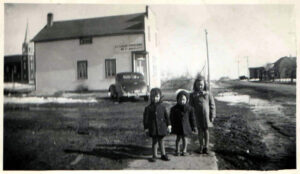 Caisse was founded in St. Malo with 29 members and $96.85 in assets.