Caisse in the Community
Caisse Financial Group is committed to the development and growth of the communities it serves. Our contribution helps community organizations realize their objectives and mandates.
Our combined efforts build a better community for all. It is most rewarding to see projects transition from an idea to reality. Our Community Sponsorship Program financially support over one hundred community projects and activities every year and our employees dedicate countless hours volunteering.
Community Support Programs
The Caisse Financial Group community sponsorship program assists projects, activities and initiatives of a community or charitable nature. This program mainly focuses on three themes which are building strong and vibrant communities, sustainable development of the local economy and celebrating community pride and culture.
Caisse Financial Group offers three financial support programs: the Community Sponsorship, the GREEN funds and the bursary Program.
Community Sponsorship
Caisse Financial Group is proud to support hundreds of organizations and cooperatives through various projects and activities throughout the year.
Caisse GREEN Fund
We created the Caisse GREEN Fund program in 2014, to highlight GREEN initiatives in our communities.
Bursary Program
Caisse helps high school students achieve their dreams by offering financial assistance in the form of bursaries.
Financial Literacy
The new generation will be leading our communities, organizations and businesses into the future and ensuring their vitality.
Financial literacy programs are presented to students from grades 3 to 12 in partnership with Economic Development Council for Manitoba Bilingual Municipalities (CDEM), Junior Achievement Manitoba and the Centre de la petite enfance et de la famille (CPEF) network.
'In The Know About Money'
Students from grades 7 to 12 are taught financial programs regarding how to budget, save, borrow and invest.
'Ma Petite Caisse'
This program introduces money concepts to children 3 -5 years old and to educate their parents on how to teach their children sound financial practices.
2019-2020 Major Sponsorship Projects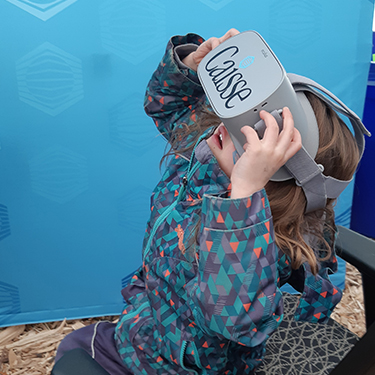 Centre Flavie-Laurent
Caisse was glad to contribute generously to Centre Flavie-Laurent (CFL)'s ongoing campaign to serve its clients better as it works towards getting a bigger location. CFL helps up to 100 families every day, and thousands of donations are dropped off at their current location every year. In 2019 alone, they received and collected nearly 18,500 donations and distributed over 54,000 household articles and bags of clothing.
DSFM/Pluri-elles
In partnership with the Division scolaire franco-manitobaine (DSFM) and Pluri-elles, Caisse participated in helping families of students in need in the
DSFM. They received assistance when classes were suspended in the spring of 2020. The affected families received gift cards containing a sum of money to be used in grocery stores as well as care packages.
Festival du Voyageur
Caisse Financial Group maintained its long-standing partnership by contributing to the celebration at Festival du Voyageur's 51st anniversary as the Sugar Shack official sponsor. Caisse's participation this year included a digital twist with the introduction of a virtual game for kids and adults alike
Société historique de Saint-Boniface (SHSB)
Caisse Financial Group is proud to be the official sponsor of the SHSB's
exhibition on the 150th anniversary of the Province of Manitoba. Caisse
strongly believes in the importance of sharing our history. The contribution
to this project has helped the Centre du patrimoine with the purchase of
much-needed dehumidifiers to preserve its archives.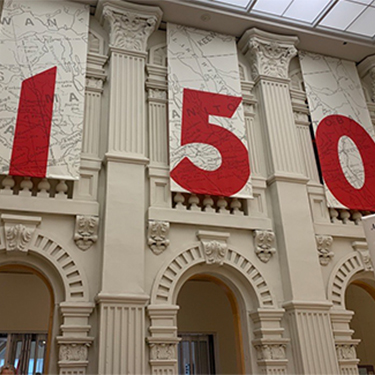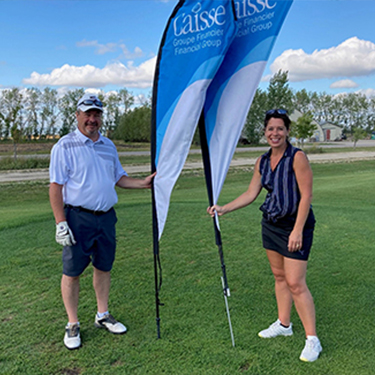 Théâtre Cercle Molière (TCM)
Caisse gladly supports Canada's oldest running theatre so that people of
all ages experience francophone art and culture. Given this year's special restrictions, TCM has had to do things differently, like throwing fundraising gala virtually, "Gala at Home". Caisse was glad to be there in spirit – and bibs.
Green Fund
Caisse Financial Group prioritizes sustainable development and supports projects that preserve the environment through its GREEN Fund. Caisse donates $5 to its GREEN fund when a member chooses to receive their statement online. 4 GREEN Fund projects have been granted $11,200 in financial support.
"We appreciate the generous contribution of Caisse to our Ste-Anne's Hospital Heliport project. The Ste-Anne's Hospital, like Caisse, was founded by the community; and like Caisse, it continues to fulfill its mandate of quality bilingual services."
Raymond LaFlèche, Ste. Anne Hospital Fund
"We are pleased to thank Caisse Financial Group for their donation which allowed us to complete Phase 1 of our project for the Winnipeg River Heritage Centre."
Diane Dubé, Director/Curator, Winnipeg River Heritage Museum
"Caisse Financial Group is a company that has the community at heart and I am proud to be a member. At the Centre Flavie-Laurent, Caisse supports our annual banquet and was the first company to invest in our capital campaign for the centre's expansion. You are indispensable to our community!"
Julie Turenne-Maynard, President of Centre Flavie-Laurent
Connect With Us
This error message is only visible to WordPress admins
Error: No feed found.
Please go to the Instagram Feed settings page to create a feed.