Bannière-Communauté-2022-vs2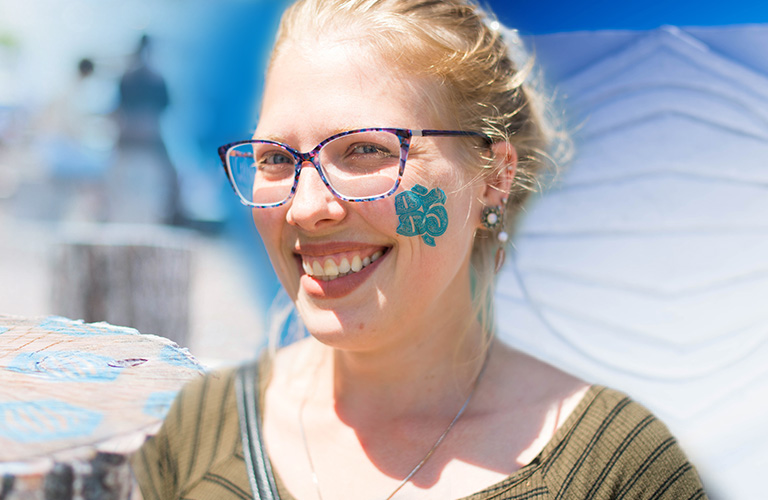 Caisse in the Community
Caisse Financial Group is committed to the development and growth of the communities it serves. Our contribution helps community organizations realize their objectives and mandates.
Our combined efforts build a better community for all. It is most rewarding to see projects transition from an idea to reality. Our Community Sponsorship Program financially support over one hundred community projects and activities every year and our employees dedicate countless hours volunteering.
Community Support Programs
The Caisse Financial Group community sponsorship program assists projects, activities and initiatives of a community or charitable nature. This program mainly focuses on three themes which are building strong and vibrant communities, sustainable development of the local economy and celebrating community pride and culture.
Caisse Financial Group offers three financial support programs: the Community Sponsorship, the GREEN funds and the bursary Program.
Community Sponsorship
Caisse Financial Group is proud to support hundreds of organizations and cooperatives through various projects and activities throughout the year.
Caisse GREEN Fund
We created the Caisse GREEN Fund program in 2014, to highlight GREEN initiatives in our communities.
Bursary Program
Caisse helps high school students achieve their dreams by offering financial assistance in the form of bursaries.
Financial Literacy
The new generation will be leading our communities, organizations and businesses into the future and ensuring their vitality.
Financial literacy programs are presented to students from grades 3 to 12 in partnership with Economic Development Council for Manitoba Bilingual Municipalities (CDEM), Junior Achievement Manitoba and the Centre de la petite enfance et de la famille (CPEF) network.
'In The Know About Money'
Students from grades 7 to 12 are taught financial programs regarding how to budget, save, borrow and invest.
'Ma Petite Caisse'
This program introduces money concepts to children 3 -5 years old and to educate their parents on how to teach their children sound financial practices.
2020-2021 Major Sponsorship Projects
Accueil Kateri
Caisse Financial Group is proud to support Accueil Kateri Centre Inc. in the renovation of their new space at 132 Centrale Avenue in Ste. Anne. Founded in 2015, this non-profit organization helps families in need in the municipality by providing boxes of food, hygiene products and clothing to more than 70 households biweekly.
Community Garden
Caisse Financial Group proudly supports its communities' initiatives, such as the Précieux-Sang community garden, organized by the club Té-Vert and the Conseil Jeunesse Provincial. During the 2021 gardening season, this project made it possible to offer more than 50 baskets of fresh produce to people registered with the Université de Saint-Boniface's food bank. The garden team consisted of around twenty volunteers, including people of all ages, with the youngest gardener being only
four years old!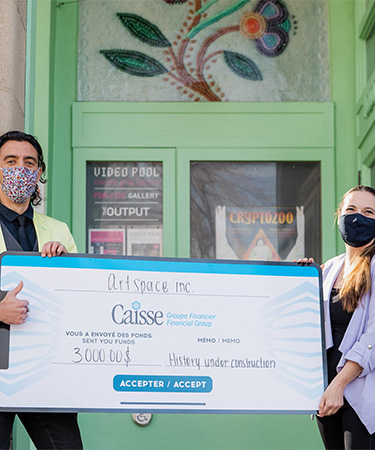 Festival du Voyageur
Presented virtually this year, the 52nd edition of the Festival du Voyageur was a real success. Nearly 117,200 festivalgoers were able to watch various concerts online. Caisse Financial Group is proud to continue supporting Festival year after year and is continually impressed, especially this year, by their quick adaptation during the global pandemic.
Théâtre Cercle Molière (TCM)
Caisse is glad to support Canada's oldest running theatre, ensuring people of all ages experience francophone art and culture. Due to the ongoing restrictions, TCM had to make changes, such as virtually hosting the fundraiser gala, Galamaison, for the second year in a row. Featured this year was the video drama Annie et Tom du lundi au vendredi and l'Article 23, which have been presented at the TCM with support from Caisse.
Artspace
In support of Indigenous & LGTBQ artists
Caisse Financial Group was proud to support a beautiful, large-scale public art project set in both vestibules of the Artspace building in Winnipeg's Exchange District. The Vesti_art project, brought to life by Artspace, features two emerging artists from under-represented communities: the Métis community and the Queer community. The project features two pieces: the magnificent beadwork of Bronwyn Butterfield, entitled "A vamp for my cápán" and the splendid piece of resin-coated embroidery by James Turowski, entitled "Queer In Bloom".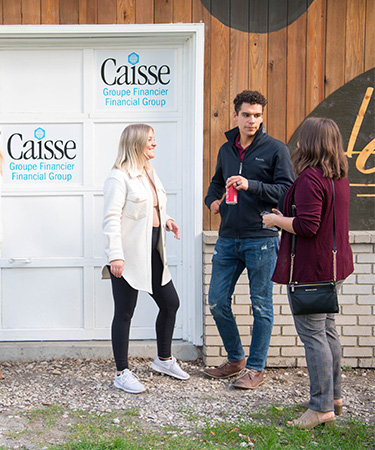 Le Patio 340
In support of artists & local businesses
The pandemic has brought on many changes, including a very large and exciting initiative on the grounds of the Centre culturel franco-manitobain. Caisse was happy to be the official presenter of Le Patio 340 in the summer of 2021. Located in the heart of Saint-Boniface, the Patio 340 is a lovely pop-up bar and bilingual gathering place designed to attract spectators with great shows put on by a variety of artists (music, stand-up, dance, slam, etc.) from July to September.
GREEN Fund
Caisse Financial Group prioritizes sustainable development and supports projects that preserve the environment through its GREEN Fund. Caisse donates $5 to its GREEN fund when a member chooses to receive their statement online.
"We appreciate the generous contribution of Caisse to our Ste-Anne's Hospital Heliport project. The Ste-Anne's Hospital, like Caisse, was founded by the community; and like Caisse, it continues to fulfill its mandate of quality bilingual services."
Raymond LaFlèche, Ste. Anne Hospital Fund
"We are pleased to thank Caisse Financial Group for their donation which allowed us to complete Phase 1 of our project for the Winnipeg River Heritage Centre."
Diane Dubé, Director/Curator, Winnipeg River Heritage Museum
"Caisse Financial Group is a company that has the community at heart and I am proud to be a member. At the Centre Flavie-Laurent, Caisse supports our annual banquet and was the first company to invest in our capital campaign for the centre's expansion. You are indispensable to our community!"
Julie Turenne-Maynard, President of Centre Flavie-Laurent