Caisse Financial Group celebrates 85 years of service to its members and communities.
Our 85th anniversary marks a milestone for the Caisse. This longevity is a symbol of our members' loyalty and an expression of the trust they have granted us through the years.
This important step is made possible by the collaboration with our long-standing business and community partners. This complicity allows us to better serve our members and communities and embodies our cooperative values.
And this anniversary is the opportune moment to highlight the contribution of all our employees and Board members, past and present, who, by their professionalism and their commitment, have strengthened the image of the Caisse and contributed to its success.
Established in St. Malo, Manitoba, in 1937 with 29 members and $96.85 in assets, Caisse Financial Group was the first officially registered financial co-operative in Manitoba. Today, we have evolved to a full-service, billion-dollar bilingual financial institution with 19 branch locations in Manitoba and over 35,000 members. Read more in About Us.
Stay tuned, we will be celebrating throughout the year with contests and community events!
85th Anniversary Logo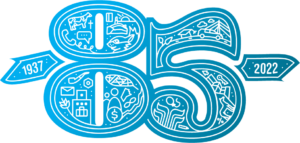 In the logo, you'll recognized symbolic elements that represent Caisse, such as our old mascot, Poplico, the Caisse Mobile, the Provencher corporate office and some of its communities such as the La Broquerie cow, the St. Claude pipe, the St. François Xavier horse and the Franco-Manitoban flag.